Shaukat Parpia
CASE STUDY: OVER $75,000 IN TAXES SAVED ANNUALLY
CLIENT FILE: SHAUKAT PARPIA, PRESIDENT
COMPANY: MSP DATA SYSTEMS, INC
TAX SAVINGS REPORT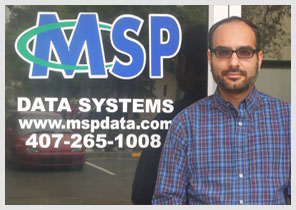 Shaukat Parpia, is an entrepreneur who started his first IT business in Tanzania at the age of 20. This was back in 1998. However, since migrating to the US in 2001, he worked with various companies until he eventually founded MSP Data Systems in 2005. Under his leadership the company has grown from a small operation to a large 25,000 square foot facility and continues to expand. With 17 years' experience in IT business, Shaukat is poised to get MSP to the next level.
Since its inception in 2005, MSP Data Systems ("MSP") has grown to become one of the world's fastest growing distributors of servers, server parts and networking products. Their motto from day one has been "the ultimate customer satisfaction", and that's the reason they would go that extra mile to keep their customers happy and eventually win more business.
MSP was created on May 1, 2005 in Longwood, Florida. Shaukat first started working with Ike in March of 2008. Just 3 years after starting MSP, Shaukat was experiencing a lot of growth with sales into the millions and a federal income tax bill in excess of six figures. Beyond the growing income tax liability, Shaukat had not done much retirement planning and had no estate plan to speak of. He engaged Ike to develop a comprehensive tax and financial plan with his business at the center of the plan.
What Ike was able to do was arm Shaukat with unique strategies to better protect the assets of his business from unsuspecting litigants, legally and ethically reduce his income taxes, implement an estate plan, and create tax-free retirement income for him and his wife. The results for Shaukat were were multi-six figures in estate tax savings, paying 50% less in income taxes annually, experiencing increased cash flow annually, and having an account that will generate multiple six figures in annual tax-free retirement income when Shaukat and Parveen, his wife, retire in their 50's after almost 30 years of service at MSP. As MSP continues to grow, Ike has offered additional strategies to provide thousands of dollars in cost savings to MSP and ultimately increase their profitability.